Free Webinar – A DevOps Perspective on GeoServer: Monitoring, Metering, Logging and Troubleshooting a GeoServer Installation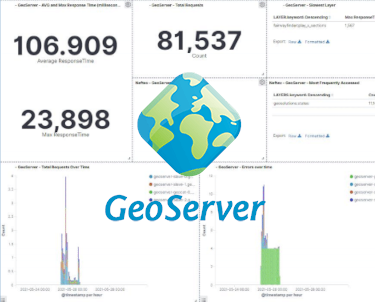 Update: please, find recording & slides at the end of the page in the comments section!
Dear Reader,
A proper GeoServer deployment does not end when we have gone into production, quite the contrary! As we usually say here, the fun starts when you go into production since despite all the preparation work we have done there is always something we have not taken into account or just because life is not perfect.
It is crucial to plan and implement properly tools and procedures for the following topics (notice that the first three are also known as the pillars of system observability):
– Monitoring & Alerting, to proactively assess the health of endpoints and services to ensure application availability and to generate alerts when something bad happens.
– Metering, to collect metrics about the system functioning itself in order to be able to analyse them afterwards both to ensure SLAs as well as to compare expected performance with the measured one.
– Logging, to collect and index application as well other logs from GeoServer which are crucial to correlate and investigate eventual issues that can be identified by the former two elements (e.g. an application stop as pointed out by the monitoring system or a performance slowdown as measured by the metering subsystem)
– Troubleshooting, to be able to quickly restore proper services functioning while collecting useful information to further investigate eventual issues.
In this free webinar, our Lead DevOps Alessandro Parma, together with our Director Simone Giannecchini, will walk us through the key points to take into account as well as useful resources to use for making a deployment of GeoServer observable or, to put it simpler, give you confidence that you have the tools to anticipate problems and that when something goes bad you know what to do, you can do it quickly and in orderly fashion. More specifically, we are going to discuss items like:
– How to monitor GeoServer
– Tools and techniques to measure performance and robustness of your cluster
– Analytics for GeoServer using the ELK stack
– Best practices and common mistakes
If you intend to deploy GeoServer or if you are already managing a GeoServer deployment, we believe this webinar can help provide some good hints based on our experience with real world use cases. Therefore, we cordially invite you to a free webinar on June 29 at 11:00 Eastern Time / 15:00 GMT by registering at the link below!

Hope to see you virtually on June 29, meanwhile stay safe and keep strong!
Cordially,
The GeoSolutions Team,