GeoNode 4.0.2 is out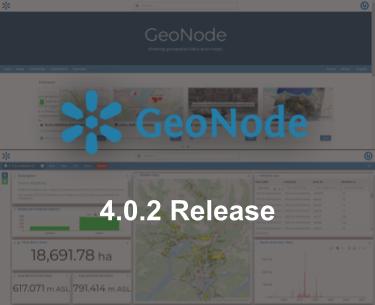 Dear Reader,
We are pleased to announce the new stable release of GeoNode 4.0.2 with new features and enhancements. This will be, most probably, the latest release for the 4.0.x line. The next one will be 4.1.0, which will introduce several enhancements do the client architecture and upgrades to the backend services, including Geoserver. More details can be found in the Release Schedule page.
The full list of changes and bug fixes for this release can be found here, while this blog highlights the most interesting ones.
Upgrade of Mapstore Client
In this version, mapstore client is updated to version 4.0.5. This include a couple of fixes related to group permissions management, download of filtered dataset, cloning/copying of the resources and map widgets. It also paves the road for the the development of new features, including 3D visualizations thanks to MapStore's support for 3D views and 3D datasets (pwered by Cesium). To see more fixes and adjustments, read the release noted of Mapstore Client 4.0.5 here.
Document Upload API
Previously, a user was unable to upload documents  via an API, with this new stable version, a new v2 API was created to allow users upload and clone documents. This way it is possible for users integrating with GeoNode to customise the document upload process. The API Usage Examples page includes an example for its usage.
Improved Thumbnails
The client and backend engine for thumbnail generation has been reviewed and improved to obtain thumbnails with higher quality and a better factor size. The automatic creation of thumbnails from PDF documents was also rewritten and now it's back.
As usual feel free to play with our 4.0.2 demo instance. You can register and test the full end-user functionality for free! 
If you are interested in learning more about how we can help you develop a WebGIS using MapStore or help you achieve your needs with MapStore, GeoServer, GeoNode and GeoNetwork through our Enterprise Support Services, Professional Training Services and Subscription Services  please contact us!
The GeoSolutions team,