Free Webinar – GeoNode 4 at work for the TOP FEMA innovation program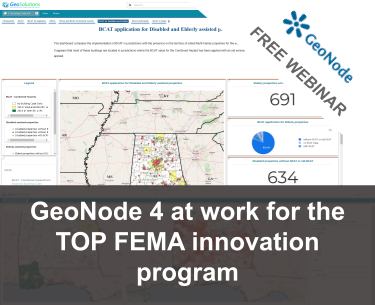 <– The recording is avalable here below –>
Dear Reader,
We've been invited by Federal Emergency Management Agency (FEMA) and the Opportunity Project (TOP) teams to join the 2022 TOP Sprint to address FEMA's problem statement on building community and individual climate resilience.
The project we have developed was based on the latest version of GeoNode 4.0 with a special focus on the use of Dashboard and Geostory tools to present the results of spatial data analysis, in an eye-catching and immersive way. We studied spatial correlations of the adoption of FEMA Building Codes with environmental risks and equity parameters, analyzing two different use cases according to the building locations, whether in Special Flood Hazard Areas (SFHA) or in areas identified as disadvantaged by the Climate and Economic Justice Screening Tool (CEJST). A final Geostory were created to display achieved results, combining interactive maps, dashboards with charts (see an example below) and counters and other multimedia contents such as videos, images, etc.
Since we believe this work is valuable, we have decided to host a free webinar on Dec 6th, 2022 11:00 AM in Eastern Time / 5pm Central European where we will be showing how to use GeoNode 4 to to build compelling visualizations and storytelling using maps, dashboards and geostories, to present analysis results like those of this project.
We kindly invite you to join us by registering at the link below!


Hope to see you virtually on Dec 6, 2022 !
Regards,
The GeoSolutions Team,