MapStore 2: working hard on the new L&F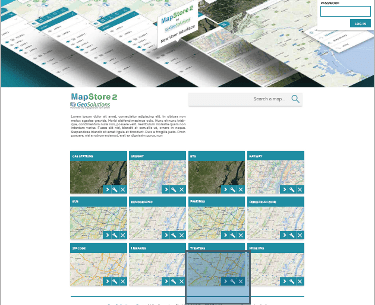 Dear All,
we just wanted to share with you the work that we are doing on the new Look&Feel for MapStore 2 with our partner Chef Studio
For MapStore 2 as we rewriting from scratch the JavaScript framework using ReactJS as we described in this long post we did not want to leave behind the quality of the UI/UX aspects as such we have set ambitious goals for that part as well; we want MapStore 2 to work nice on the mobile from the first version (i.e. responsive and mobile first or better work nice on all screen sizes) hence we want it to move away from complex desktop like UI as we used to do for MapStore 1 (bye bye Ext-JS) and create something that would be less intimidating at the first glance while retaining the ability to have sophisticated functionalities still available (yes, I am talkin to you QueryBuilder! See below..).
Well, while the first post on MapStore 2 was rather long this one is going to be rather small. If you are willing to have a look at what we are doing and give us your opinion you can find the current mock-up that is driving the GUI at this lin. You can also look at a static HTML+CSS mockup of the various components here which gets updated every time our colleagues at Chef Studio push new samples to GitHub. We are right now working on mounting the L&F on a the Q&A version of MapStore 2 so, stay tuned for an update on that.
Aside, in case you forgot the Q&A instance of MapStore 2 is available here and the stable version is available here. There is a continuous deploy mechanism in place so they both get update quite often, Q&A is update as the developer push something to GitHub while stable is update once the testers press the deploy button :).
If you are curious but you don't want to spend time on checking the links above, here below you have some screenshots (aren't they worth a thousand words?).
If you want to know more about how we can help your organization, don't hesitate and get in touch with us! Make sure to check our Enterprise Services Offer which is the contracting whicle we use to help our clients reach their goal with our products.
The GeoSolutions Team,