MapStore 2: The new look&feel at work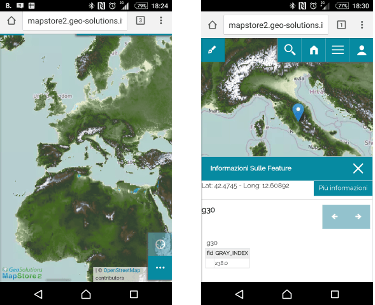 Dear All,
we just wanted to share with you the work that we are doing on MapStore 2.
In previous posts we have described the reasoning behind the technological choices (see this post if you missed it) as well as the work being performed on the new look&feel (see this post if you missed it).  In this post we just want to point your attention to the current development release of MapStore 2 which has ben performed in conjunction with the first release of the new theme that depicts what the Look&Feel will look like in the  long term. Here below the main map page with the new theme applied is shown.
MapStore 2 has been designed from the beginning to provide users with a coherent and comprehensive experience across different devices, hence it should automatically adapt to different screen size as shown below (warning, that's my cell phone screen 🙂 ).
You can play with the current version by pointing your browser at http://mapstore2.geo-solutions.it.
The current cycle of development which should end towards 10th of August (summer holidays permitting 🙂 ) is focused on the implementation of the map management functionalities which includes both Map Editing as well as Map Search functionalities to refactor the old Map Manager interface according to the mock-up here below.
So yeah, stay tuned for more development on the MapStore 2 project, meanwhile play with it and if you have any feedback for us you can use the project's google group to communicate.
If you want to know more about how we can help your organization, don't hesitate and get in touch with us! Make sure to check our Enterprise Services Offer which is the contracting whicle we use to help our clients reach their goal with our products.
The GeoSolutions Team,