MapStore in the Austro Control Spatial Data Infrastructure: supporting dissemination of aeronautical data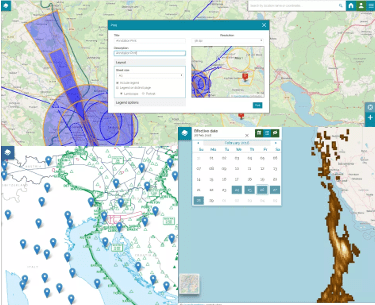 Dear Reader,
In this post we would like to cover the work we have performed recently for Austro Control GmbH.
Austro Control is one of Europe's leading air traffic control organisations. There are up to 3,500 controlled flights in Austrian airspace on some days. With a workforce of about 1,000, Austro Control's key task is maintaining safe, punctual, efficient and environmentally friendly air traffic round the clock, 365 days a year, with over 1 million flight movements in Austrian airspace.
Austro Control is a limited company (plc) owned by the Austrian government that grew from the Federal Office of Civil Aviation (corporatised on 1 January 1994).
Austro Control has two main functions, performed by separate divisions. The Air Navigation Services Division largely comprises operational functions, while the Aviation Agency is responsible for regulatory matters.
An enterprise SDI based on Open Source
As part of their effort to create their own spatial data infrastructure based on Open Source to ingest, manage and disseminate Aeronautical Information to their stakeholders, they have selected MapStore as their webmapping client of choice. It is also worth to point out that MapStore is in good company since Austro Control GmbH also uses GeoServer and GeoNetwork for data and metadata management.
Whilst Austro Control GmbH was satisfied with some of the functionalities offered by MapStore they decided to provide funding to implement some specific functionalities as well as to enhance some other functionalities (such contributions will be part of the next, upcoming MapStore release). In the following sections of this post we are going to briefly cover the most important ones.
Import/Export of Maps and Data
This is about the ability for all users to export map definitions and then reload them or send them to someone else for sharing. 
Anonymous users are therefore now able to export map settings locally in a file, which can be saved for later reuse; this includes the status of collapsed/open parts of the hierarchical legend as shown below. It is also possible to load and style directly on the map Shapefiles, GeoJSON and KML/KMZ files, as shown below.
Improved Map Annotations
Users are now able to create, modify, remove, store locally and upload sophisticated map annotations also known as redlining data. The annotations can be of type point, line, polygon, circle and text and are not stored on the server (this will be implemented in a future version) but are transient on the map with the possibility to export to a local storage and re-upload later on.
The ability to define a symbology for the annotations (colour, line thickness, point symbols, line/area style, text font, etc.) is also supported as shown below.
It is also possible to place annotations elements by using coordinate input via the keyboard (point, line, polygon, circle, text): for above mentioned data input the possibility shall exist to enter locations/points of elements via coordinate input on a text field, the format for coordinates are decimal degrees and the aeronautical degree format ("NDD MM SS.xxxx, EDDD MM SS.xxxx").
The ability to print annotations and imported vectorial data is also supported, further improvements to the print tool in MapStore have been provided to properly preserve vector feature styles too.  
Support for AIRAC Cycles for publication dates in irregular time lags
MapStore still lacks a proper widget to manage time enabled layer from WMS and WMTS (stay tuned, we are working on that as well) but this was an important missing features since Austro Control Gmbh needs to update data according to the Aeronautical Information Regulation And Control Cycle; therefore the requirement here was to create a widget to display a calendar where the user could select a specific date to control a WMS TIME-enabled layer(s) or to be presented with a predefined list of dates.
The date selection applies to all layers that support the time dimension and we also give users the option to display or not layers without time dimension. Notice that only the administrator is able to configure a list of special dates with names that shall be highlighted in the calendar component, as shown before.
Conclusions
Other enhancements were performed as part of this work which will end up in MapStore soon (e.g. ability to measure on the map in nautical miles); eventually, we would like to thank Austro Control GmbH for its patience when dealing with us and for their foresight in embracing the Open Source philosophy.
Last but not least, if you are interested in learning about how we can help you achieving your goals with open source products like GeoServer, MapStore, GeoNode and GeoNetwork through our Enterprise Support Services and GeoServer Deployment Warranty offerings, feel free to contact us!
The GeoSolutions Team,