MapStore Release 2019.02.00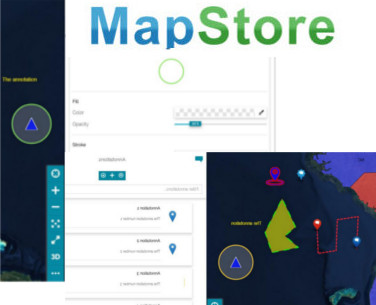 Dear Reader,
We are pleased to announce the release 2019.02.00 of MapStore, our flagship Open Source WebGIS product. The full list of changes for this release can be found here, but the most interesting additions are the following:
Filtering Layers: You can now create virtual layers in the TOC by filtering GeoServer layers using the Query Builder.
Improved Annotations: now you can create different types of annotations (like lines, circles, polygons, text and symbols). You can even convert a measure into an annotation
Timeline Map Sync: Now you can filter the timeline to show only times of the features in the current map viewport.
Highlight results on map of the MapInfo tool: to highlight on map the resulting features of an Identify operation
Catalog tool: improved the UI and introduced advanced settings options with also a customizable template to show CSW metadata
Search by coordinates: a new option in Search Bar to zoom to one location inserting the coordinates manually
Export of a map: a new menu option to export map definitions
Import tool: an improved UI to import map definitions but also GeoJSON files, KML/KMZ files, Shapefiles and GPX files
Measure Tool: improved UI for the Measure tool with additional capabilities to convert the measure as a annotation
Layer Groups and layer/group tooltips in TOC: introduced an easily way to manage and create groups of layers and the possibility to configure tooltips for layer/groups of layers (title and description) in TOC
Other improvements are as follows:
Feature Grid Date/Time quick filters now allow operators (< > = <>…)
Authorization Rule Manager support for integrated version of GeoFence in GeoServer
As usual we have performed many bug fixes and performance improvements (also for Timeline and Style Editor components).
Let's now dig a bit more into the more important features.
Filtering Layer
When using vector layers it might be useful to work with a subset of features. MapStore now lets you set up a Layer Filter that acts directly on a layer with WFS available and filter its content upfront. The map will immediately update when a filter is created and all other tools will take it into consideration when used. Moreover, the filter is saved into the map context so will be automatically applied when you re-open a saved map. Notice that this feature requires you to use GeoServer as the backend service.
MapStore lets you enrich the map with special features which expose additional information, mark particular position on the map and so on. The previous tool of Annotation has been vastly improved with several additional functionalities and capabilities as follows:
Many types of annotation are now available, not only markers like before
Ability to import/export annotations
Support to SVG symbols: in addition to markers you can also configure your custom list of SVG symbols
Advanced Styling: for each annotation you can customize the style with a style editor
… and more, please visit our online documentation to learn more about it
You may wonder how to show on the timeline only the times instants covered by the data that is visible on the map, especially when you are exploring a big data set. Enabling the Map Sync Button, the timeline will show only the time instants for the data available in the current map.

Highlight on map the Identify results
You can highlight features resulting from an Identify operation: a new button in the Identify toolbar is now available to activate this functionality.
The Catalog tool UI has been reviewed including the capability to expand/collapse layer cards to show/truncate long descriptions. Also some advanced settings capabilities have been added to:
Show/Hide the layer thumbnail
Configure a metadata template to customize the layer details to show from the CSW output
Search by coordinates
Through the Search Bar you have the possibility to zoom to a specific point and place a marker in its position. The point can be specified typing its coordinates both in decimal and aeronautical formats. A new burger menu inside the Search bar is now available to easily provide alternative searching capabilities (by coordinates or defining your custom WFS search service).
Import – Export tools
You can now import vector data on the map with an improved UI that includes the support for the GeoJSON format too, as well as MKL/KMZ, Shapefile and GPX.
You can also export the map context, share it and then re-import it in an existing map or MapStore instance.
Measure tool
The UI of the Measure tool has been improved, now you can also convert a measure into an annotation!
Layer Groups and layer/group tooltips 
TOC and Layer settings have been improved to easily create groups of layers with a more friendly user interface.

With this MapStore release you have also the possibility to configure the tooltip composition and its placement around the layer/group card in TOC.
Ongoing and future work
For the next releases we have plans to work on the following (in sparse order)
Further improvements to charts and dashboards (we have in plan to add some interesting capabilities, stay tuned!)
Ability to create storytelling resources a-la StoryMaps via the GeoStory development.
Support for multiple map projections (expected in next major release 2019.03.00 of MapStore)
Vector Tiles and MapBox Style support
Stay tuned for additional news on the next features!
If you are interested in learning about how we can help you achieving your goals with open source products like GeoServer, Mapstore, GeoNode and GeoNetwork through our Enterprise Support Services and GeoServer Deployment Warranty offerings, feel free to contact us!
The GeoSolutions team,