MapStore Release 2021.02.01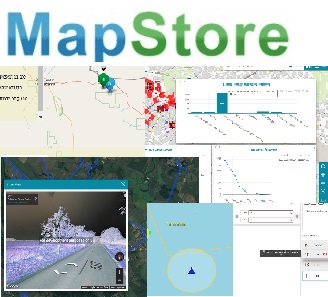 Dear Reader,
We are pleased to announce the new release 2021.02.01 of MapStore, our flagship Open Source WebGIS product. The full list of changes for this release can be found here. This blog highlights the most interesting ones. The purpose of this new version of MapStore is to further harden the 2021.02 series with some small bug fixes, graphical enhancements and small new features. You know, our main goal is to continuously improve and harden the product to make it even more desirable and powerful at each release!
In Github it is possible to consult the full list of bug fixes and enhancements we have provided with this release. Below are listed the most important enhancements.
Log4Shell Vulnerability
We are always and constantly at the forefront to keep our products safe from important vulnerabilities. Even if MapStore is not affected by default by the infamous Log4Shell vulnerability (code CVE-2021-44228) we have anyway provided an update to release it with a sanitized version of the Log4J 1.2.17 library, which simply does not include the classes involved in vulnerabilities CVE-2021-44228 and CVE-2019-17571. This library is also usable with older versions of MapStore and other our products. We have also recently issued a press release about this topic that you might find interesting to know our Log4J Vulnerability Impact Assessment and understand what you can do by checking our guide to eliminating the threat in running instances of our products.
Improved Chart Labels
We have enhanced the way labels are managed by the tool especially in case of long labels. Now labels are better adapted according to the widgets size. The display of chart legends, especially for pie charts, has also been improved to avoid undesired overlaps.
Attribute Table
As part of a bigger process of UI reskin, we have reduced the size of the Attribute Table toolbar to make it less impactful from a viewing point of view and more compact saving the UI space. Other UI components will be also involved in this process in next releases (eg. the Table of Content).
Application Context Wizard
With the aim of improving the user experience in using application contexts, it is now possible to more easily jump between the steps of the wizard.
GeoStory
GeoStories have been enhanced with the possibility to make Web Page Sections full screen to better integrate third party contents in your story.
The GeoCarousel section has been also improved to better highlight items in map when they are selected in the carousel by changing their color and z-position.
Annotations
The Annotations tool has been reviewed a bit to harden the way invalid states are handled and improve the validation of user-entered geometries.
Street View
Last but not the least, we have introduced a new plugin to browse Google Street View contents in MapStore. The image below shows a use case of the plugin in development mode (eg. without the google api key available)
Due to licensing reasons, this tool is not available by default in MapStore but it is ready to be configured for Application Contexts.
Ongoing and future work
For the next releases we are working on the following functionalities (in sparse order):
New charts types, like multilvariable and stacked bar charts along with chart theming capabilities that will be available in the next major release v2022.01.00
Improvements to the MapStore SDK to simplify the life of developers creating downstream projects like the GeoNode integration.
General improvements for MapStore downstream projects to simplify and enhance the management and maintenance of MapStore based project
MapStore integration in GeoNode: more improvements and new features to integrate Dashboards and more
3D tiles support, Cesium library update and support to manage 3D tiles layers and styling
Performances and more, enhancements are expected in 2022 to further improve the loading time of MapStore pages and themes and also other new features will be available. Stay tuned!
If you want to play with the current release, you can access the live demo here and login with username demo and password 123demoUser.
If you are interested in learning more about how we can help you develop a WebGIS using MapStore or help you achieve your needs with MapStore, GeoServer, GeoNode and GeoNetwork through our Enterprise Support Services, Professional Training Services and Subscription Services  please contact us!
The GeoSolutions team,