FREE Webinar: MapStore for Local Governments – Cleveland Metroparks Case Study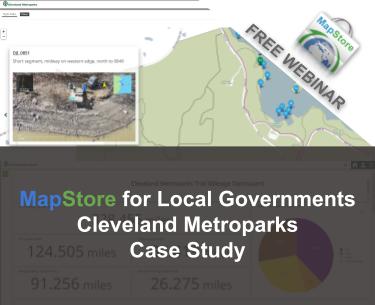 Dear Reader,
Join us October 3 at 11AM Eastern (3PM GMT), for the next free webinar as part of the GeoSolutions instructional webinar series on open-source software products, including GeoServer, GeoNode, and MapStore.  On October 3 we will be featuring MapStore, beginning with an introduction with some "how-to" content, followed by a live demonstration of MapStore in action by Cleveland Metroparks.  This is a great opportunity for any local government (or other organization) looking to deploy MapStore and leverage open-source software for everyday geospatial data operations and visualization.
We're delighted, honored, and grateful to Cleveland Metroparks for their willingness to showcase the fantastic application they've created with MapStore (with a little help from GeoSolutions!).  The Cleveland Metroparks Maps Site will be featured, and there will be plenty of time for Q&A at the conclusion of the webinar.
As we stated above, the webinar is free of charge but we ask people to register; recording and slides will be made available shortly after the event as a comment to this post.


Looking forward to seeing you on the webinar!
If you are interested in learning more about how we can help you achieve your needs with MapStore, GeoServer and GeoNode through our Enterprise Support Services, Professional Training Services and Subscription Services  please contact us!
The GeoSolutions team,