GeoBuiz Summit 2022 – Monterrey Bay, CA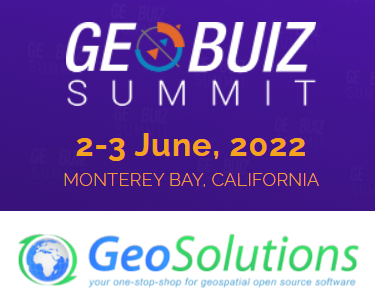 It's not often that there's an event gathering such a high concentration of top caliber industry leaders, and GeoSolutions is honored to be participating at GeoBuiz Summit in Monterrey Bay June 1-3.  I'll be participating in the Friday Deep Dive Session on "AI/ML/Cloud/Big Data: Driving X as a Service".
My brief lightning talk will focus on "Innovation at Scale" for data publishing, focusing on the importance of developing interoperable, open standards-based capabilities for getting massive spatiotemporal raster and vector data to consumers and analysts using that data.  As new data formats and types spawn from IoT, smart cities, video, 3D, precision farming, and building energy (to name a few), innovation must keep pace to make this data accessible and usable across domains. 
We're excited to share what we know at GeoBuiz Summit and look forward to seeing everyone there!
-Ryan
If you are interested in learning more about how we can help you achieve your needs with MapStore, GeoServer, GeoNode and GeoNetwork through our Enterprise Support Services, Professional Training Services and Subscription Services  please contact us!
The GeoSolutions team,