GeoSolutions Exhibiting at GEOINT 2022!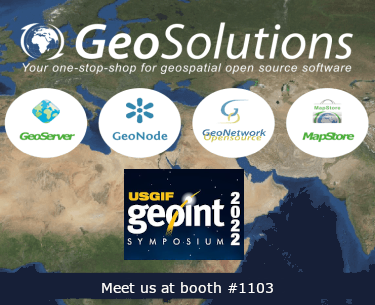 One of the first actions GeoSolutions USA took back in 2020 was to join USGIF because we think that tools that support open standards are critical to ensure interoperability of GEOINT.
We are therefore happy to announce that we are going exhibit at 2022 GEOINT Symposium, which will take place in Denver, April 24-27. We will be thrilled to meet you at our booth 1103 and discuss how we can help you to achieve your goals using our open source products:
GeoServer, the leading open source server to publish geospatial data at scale.
MapStore, our modular open source WebGIS product to create and publish geospatial data as maps, dashboards and geo stories.
GeoNode, the open source GIS platform to create a complete and interoperable spatial data infrastructure.
We have also submitted a workshop/training titled "Introduction to GeoNode" which is scheduled for Monday, April 25th from 2 to 3 pm local time (you can find the slides here). If you attend the training, expect to get an introduction to one of the most complete and most widely used open source products for the geospatial world, GeoNode. For those wishing to build a spatial data infrastructure using open source products or those simply willing to explore what exists outside of the usual commercially licensed GIS software silos we will provide an overview of GeoNode capabilities in terms of data management, publishing, dissemination, and interoperability.
If you want further information or if you have questions, do not hesitate to contact us.
Looking forward to seeing you in Denver!
Ryan,