GeoStory: A powerful feature for GeoNode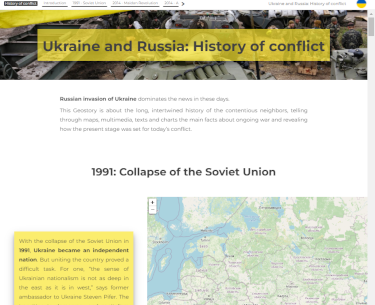 Dear Reader,
One of the most powerful feature brought by GeoNode 4.0 is the possibility to create GeoStories. GeoStories provide a simple way to combine interactive maps, multimedia content, timelines and narrative text to create digital storytelling. The tools included in the GeoStories feature are easy and intuitive to use, allowing even non-expert users to tell an eye-catching tale, bringing a story to life by displaying geographical data, creating statistics and graphics, showing images and videos, and presenting interactive elements to allow readers to explore and experience a story more deeply.
An example of GeoStory can be seen here, where the GeoSolutions team has created a chronicle of the conflict between Ukraine and Russia, composed by texts, images and video footages from main news publishers, linked to interactive maps of the areas involved in the events, to better understand the context and visually follow the events narrated. The Geostory is enriched with dashboards to present in one view statistics on civilian involved in the conflict synchronized with related map, including analysis, graphics and data tables based on data about harms, fatalities and refugees, provided by International Agencies and Non Governative Organizations. Far from being an explanatory article, the Geostory presented can be considered an example of news narration carried out through an immediate and intuitive means of communication represented by the geographical maps of the facts.
More examples of Geostories to come !
If you are interested in learning more about how we can help you achieve your needs with MapStore, GeoServer, GeoNode and GeoNetwork through our Enterprise Support Services, Professional Training Services and Subscription Services  please contact us!
The GeoSolutions team,