OGC Disaster Pilot and GeoSolutions – Powering decision makers with the right information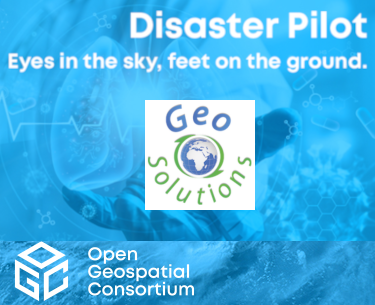 A good example of OGC's ability to synthesize advanced technologies and capabilities across industry is the Disaster Pilot project.  As part of OGC's Innovation Program, the aim of Disaster Pilot 2021 (DP21) is the integration and delivery of massive amounts of earth observation data in support of disaster response to "bring the right information at the right time to the right people in the right place."  First responders in the field in disconnected environments require real-time data fused from various sources, and the work of DP21 has proven how to make this happen through advanced integration of existing sensors, technologies, and data. 
As part of DP21, GeoSolutions in cooperation with HSR Health delivered a data discovery and exploitation platform leveraging GeoNode and GeoServer capabilities and integrated with other data catalogs using open standards in support of pandemic response. GeoSolutions applied optimization to search engine discoverability of structured data, driving Analysis/Application Ready Data (ARD) and Decision Ready Information (DRI) discovery, delivery, and visualization integrating components using open standards-based formats such as GeoPackage.  Essentially, this work makes geospatially enabled pandemic data interoperable and quickly available to those who need it following the FAIR principles.
Various source of data were collected, harmonized and configured in the platform in order to support interoperabilty and readiness experiments over Red River in Manitoba and Fraser River in British Columbia (Canada) and  Rímac River in Lima (Peru). Various actors collected and analyzed various sources of data and then they uploaded they results to the platform to fuse them with other decision redy information and create added value mapping products. As an instance, you can read the full story from the work done by the FME team here.
The platform has demonstrated how a comprehensive and interoperable geospatial platform can support the detection and management of disaster events as well as the following emergency response,  representing a key technology for coordinating reponse and saving lives.
An interesting output from the pilot as the Users and Provider Readiness guides which can be found here and which contains a live source of information to support the end-to-end flow of information within all phases of a disaster management situation both from the perspective of end-users as well as providers, that is those aiming to support those contributing data and information.
It is also worth pointing out that the call for sponsors for Disaster Pilot 2022 is out, you can find more information here.
If you are interested in learning more about how we can help you achieve your needs with MapStore, GeoServer, GeoNode and GeoNetwork through our Enterprise Support Services, Professional Training Services and Subscription Services  please contact us!
The GeoSolutions team,