GeoSolutions and OGC Testbed-18: "Advancing Location Interoperability"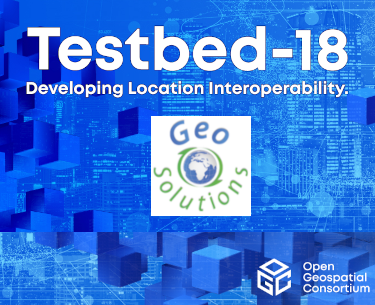 The OGC TestBed-18 is upon us and once again GeoSolutions is proud to be part of the team.  As part of OGC's Innovation Program, Testbeds focus R&D efforts utilizing resources and expertise from OGC membership across industry to evolve data accessibility and interoperability.  

While the original Testbed created Web Map Service (WMS) over 20 years ago, OGC Testbeds continue to modernize the open-source GIS tools available to the community with the supreme objective of making location data FAIR: Findable, Accessible, Interoperable, and Re-Usable. This has positive implications across use cases such as disaster response and emergency management, precision farming, smart cities – any industry focus or location-based problem set that benefits from making massive EO and vector data sets from a full range of sensors available and usable across platforms and applications utilizing open standards. 
Testbed-18 continues evolving location data interoperability with projects focusing on 3D data standards, moving features and sensor integration, and building energy spatial data interoperability (among others).  As part of the Building Energy Spatial Data Interoperability thread, GeoSolutions will be contributing towards creating external geospatial data services leveraging  GeoServer and GeoNode open source products, continuing on OGC's bigger picture mission of data interoperability and accessibility – this time for the Building Energy sector.  More information on Testbed-18, and specifically the Building Energy Spatial Data Interoperability component, can be found here.

Stay tuned to the GeoSolutions blog for more updates on OGC Testbed-18 and other developments in open-source GIS.

If you are interested in learning more about how we can help you achieve your needs with MapStore, GeoServer, GeoNode and GeoNetwork through our Enterprise Support Services, Professional Training Services and Subscription Services  please contact us!
The GeoSolutions team,