FedGeoDay 2022: Thursday, November 3 – Yates Auditorium – Washington, D.C.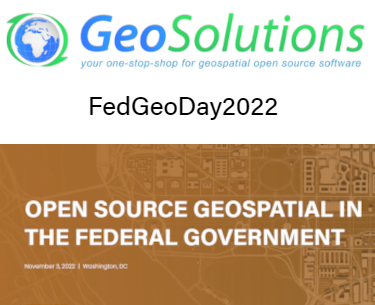 Dear Reader,
we are pleased to be a Gold sponsor of FedGeoDay 2022, an event bringing together open-source geo leaders from federal government agencies and industry. Participation by NSA, NGA, NASA, NOAA, USGS, Census Bureau, DoD, OpenStreetMap, top technology firms, and NGOs makes FedGeoDay a valuable event devoted to knowledge exchange, discussion, and networking in support of hybrid and open geospatial ecosystems.  
In addition to sponsoring the event, our team will be hosting two free workshops:
Introduction to GeoNode, with Andrea Aime
Modern data dissemination with GeoServer, with Giovanni Allegri
The GeoServer and GeoNode workshops are from 9AM-12PM, across the street from Yates Auditorium at the Red Cross Building: 730 E Street Northwest, Washington, DC 20006.  
The event is free to GOV/EDU/NGO, etc. and the GeoSolutions workshops are free as well. To register for the GeoServer or GeoNode workshops, go to: https://www.eventbrite.com/e/fedgeoday-2022-tickets-376807018937. Note, lunch will be provided, but you must register for a ticket through eventbrite. Plenary and general session will begin after lunch at Yates Auditorium. The full program and agenda is here.
FedGeoDay is hosted by OSGeoUS. OSGeo US supports activities and events that build awareness of OSGeo, cultivates projects, and creates opportunities to grow the OSGeo community in the United States. If you are interested in becoming a FedGeoDay sponsor, contact the FedGeoDay planning committee or email me at ryan.burley@geosolutionsgroup.com.
We look forward to seeing you at FedGeoDay on November 3.
If you are interested in learning more about how we can help you achieve your needs with MapStore, GeoServer, GeoNode and GeoNetwork through our Enterprise Support Services, Professional Training Services and Subscription Services  please contact us!
The GeoSolutions team,