GeoSolutions at GeoWeek: FEB 13-15 Denver, CO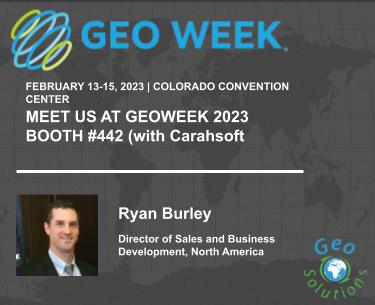 Dear Reader,
We are pleased to be exhibiting with Carahsoft at GeoWeek in Denver February 13-15.  Come visit at Booth 442 to learn about new developments with GeoNode, GeoServer, MapStore and recent examples of open-source GIS applications deployed in all levels of government and industry showcasing innovations of spatiotemporal data usage.
GeoWeek is loaded with Keynotes and Speakers focusing on innovation of geospatial digitization of the built environment and addressing the complex challenges facing us today in terms of "big picture" problems and where geospatial addresses these.  GeoSolutions is honored to be a Carahsoft partner and proud to be participating in the event as a purveyor of open-source, interoperable GIS technology.
Come visit the GeoSolutions podium at Carahsoft in booth 442 on Tuesday or stop by the Carahsoft booth anytime to absorb the full range of technologies under the Carahsoft tent. If you're interested in grabbing a coffee or other beverage in Denver to discuss where open-source and interoperability standards contribute to addressing current devops, data, and "big picture" challenges, email me at ryan.burley@geosolutionsgroup.com.
We look forward to seeing you at GeoWeek February 13-15.
If you are interested in learning more about how we can help you achieve your needs with MapStore, GeoServer, GeoNode and GeoNetwork through our Enterprise Support Services, Professional Training Services and Subscription Services  please contact us!
The GeoSolutions team,